Award winning Author, Inspirational Speaker & Facilitator
Visit her on You Tube @Tamara Kaye

Now that Spring is here, I start thinking about renewal. That being said; I need your help. I'm updating my webpage with all YOU have to say. If you have attended any of my workshops or presentations lately I'd love to hear from you.  Just send me an email and let me know how you liked it. Also, how have you used the information  or how has it inspired you to spend your extra hours of daylight? I look forward to hearing from you, and  adding your comments to my webpage! 
God has given us a wonderful life of renewal; here's to Spring and all that we can be!
It's easy to get caught up in our own drama and before long that's all we focus on. We are so much more than that. Don't let others and their drama take over either. We need to encourage our friends and family as they go through trials, just as we look for that encouragement from them. At the same time, we all need to be moving forward, not stagnating. This Spring, ask yourself "am I moving forward, have I let my wounds or someone else hold me back from growth?" Faith or Fear; they are both expectations of something that hasn't happened yet. They are both the belief in something that cannot be seen or touched. This Spring lets GROW in faith and leave fear behind!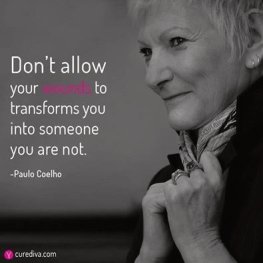 Every January it seems everyone jumps on the New Year's Resolution bandwagon. Usually I do too! But this year, I decided to make a resolution to stick to doing the things I was already doing. Things that would make a difference in the quality of my life.
Many of you know a few years ago I eliminated sugar from my diet. Not easy feat in todays fast-food-immediate-gratification society. For me, that meant staying away from packaged foods and focusing on fresh ingredients for my meal choices. Quite often I find myself in the grocery store instead of the drive through; buying an apple and a few slices of turkey  or a pouch of tuna.  
For me, it's a matter of not creating inflammation in my body. Not only does inflammation inhibit the body from fighting disease and illness, it takes up space in ones body! It really does make you "fluffy"! Since ridding myself of inflammation I breath easier (I always thought I had sinus problems) I don't get sick, (it's been YEARS ) and I look better, not to mention feel better than I have in many years.
However, for  my husband it was a different motivation. He was recently told that  either he change his diet or submit himself to a lifetime of medicine and injections: hello diabetes. I'm happy to report due to an extreme makeover (of his diet) he has reversed that diagnosis and lost 25 pounds in the process! Goodbye diabetes.
It's not always  easy for him or me, but we have determined walk our talk. It is the same resolution we made  last year and we continue to discipline ourselves in order to achieve it. Sometimes, we need to be specific in the actual steps needed to reach the goal in order to achieve the goal. Remember, we have been given a spirit of Power, Love and Self Discipline (2 Timothy 1:7). Have a great year!

/